Tuscan Italian Sausage Pot Pie
GaylaJ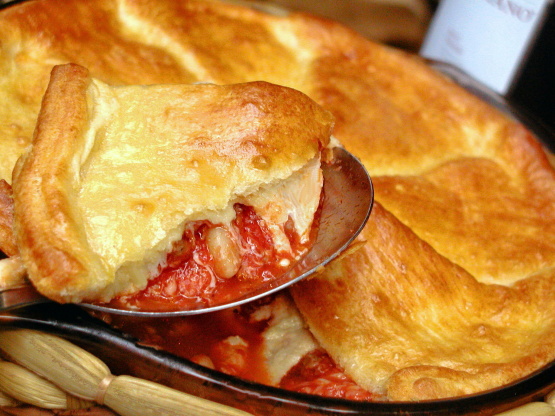 If you like your dinner to have a little zip to it, this is the recipe for you! My family loves this dish, so it is a staple at the Doyle household!

Top Review by GaylaJ
This was a delicious dish and so easy to put together. I love to keep crescent rolls on hand because they are so versatile and handy for last minute meals and appetizers. I mixed most of the mozzarella in, but added a lot between the filling and the crust. I just used a simple marinara (rather than sauce with mushrooms) so my son wouldn't sit at the table trying to pick the mushrooms out :), and added some basil, oregano, and crushed red pepper for extra kick. I also brushed the top with an egg wash. Thanks, KC Cooker, for sharing this nice, warm comfort meal!
Preheat oven to 425 degree F.
Remove sausage from casings.
Brown sausage in a skilled, stirring to separate meat.
Rinse and drain the grease off of the sausage.
Add the spaghetti sauce, beans and thyme to the sausage in the skillet.
Simmer for 5 minutes over medium heat.
Remove from heat and stir in the mozarella cheese.
Pour the mixture into a medium size, round oven proof skillet or pie dish.
Unroll the crescent dough; divide into triangles.
Arrange in a spiral with points of dough towards the center, covering the sausage mixture completely.
Bake for 12 minutes or until the crust is golden brown and the cheese is bubbly.