flower7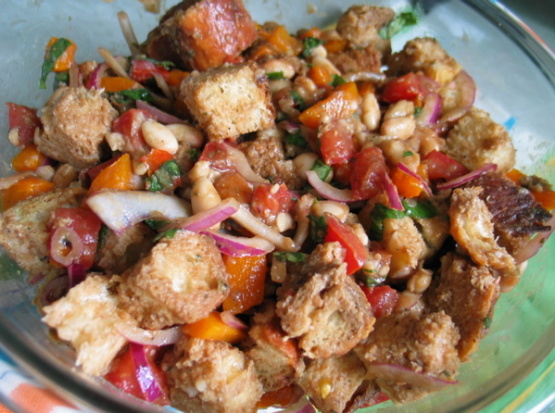 This is a great salad that's easy to prepare, and it's a great way to use up any day old bread you might have leftover. Please don't be restricted to the dressing listed here. Feel free to toss salad with any Italian, or oil and vinegar based dressing of your choice. A balsamic vinaigrette works great with this too.

OK, I used borlotti beans, didn't roast the pepper and used Bavarian mustard instead of Dijon. This recipe can take adaptations without losing anything and is very versatile. A perfect salad for those who can't stand salad greens. Tastes great.
Toast bread slices under broiler for about 4 minutes on each side.
Remove slices and rub with garlic cloves.
Prepare dressing by whisking ingredients together in a small bowl, and seasoning with salt and pepper.
Cut bread slices into small cubes and add them to a serving bowl.
Next add the tomatoes, beans, roasted pepper and basil.
Pour dressing over salad and toss to coat.
Let salad rest about 5-10 minutes before serving.