KelBel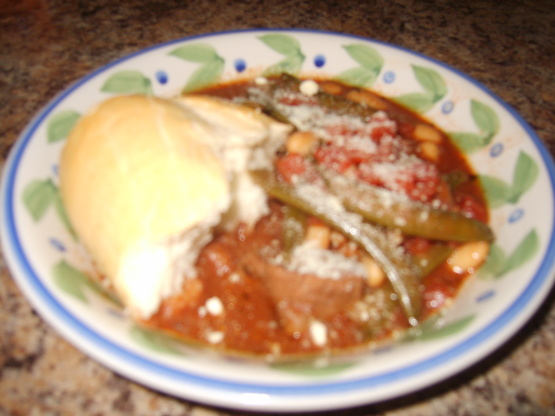 Great Italian flavor in a beef stew. For the crockpot. This is from Campbell's. Posted for the 'Zaar World Tour II.

Wonderful stew! I dusted my stew meat in seasoned flour and browned it in olive oil before putting it in the crock pot. I added some things-chopped onion, celery, more carrots (6), fresh sliced mushrooms, 6 minced garlic cloves instead of the powder, Worcestershire sauce, pepper, Emeril's Essence, seasoned salt, and a bay leaf. I used beef consomme instead of the broth. I used Great Northern white beans and I added in some fresh minced parsley when I put them in. If the stew is too soupy for you, the flouring /browning meat step will help and another great tip is : when adding the beans, remove a quarter of them and mash them with a potato masher before putting them in the crock pot with the rest of the beans. It will thicken the stew nicely. I recommend using the wine instead of the water, as Parsley did. I served this with crusty sourdough rolls. My whole family LOVED it and I will make this again for sure-so easy and economical too! Thanks!
Mix all ingredients except for the beans in crock pot.
Cover and cook on LOW 8-9 hours (or on HIGH for 4-5 hours).
Stir in beans. Turn heat to HIGH and cook 10 minutes.