loof751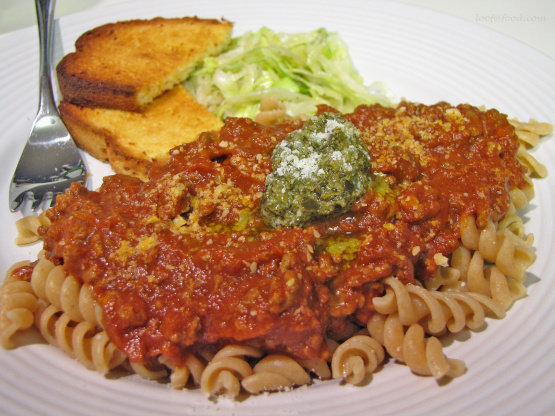 An iron rich meal for all the family. Published by the NZ Beef & Lamb Marketing Bureau.

We really enjoyed this tasty pasta sauce! The allspice and cinnamon gave this a very exotic flavor; I served it with the optional basil pesto and am glad I did because that brought it back to a more Italian flavor. Rich and hearty, served over whole wheat pasta with salad and bread - thanks for sharing the recipe!
Heat oil in frying pan and brown the onion, garlic, beef and spices over a high heat.
Add the remaining ingredients, stiring well.
Reduce heat and gently simmer, uncovered for 30 minutes, stiring occasionally.
Serve over your favourite fresh pasta with parmesan cheese, a spoonful of basil pesto (optional) and a side salad.