Tuscan Beans and Tomatoes
GaylaJ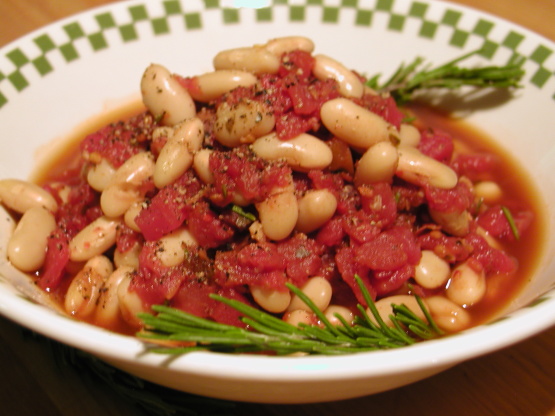 A super-quick, simple, and healthy side dish that can be thrown together at the last minute with ingredients you probably already have in your pantry. I sometimes like to also add a clove of minced garlic. From Cooking Light.

Top Review by MollyJ
Sometimes I like rosemary and sometimes I don't but this salad is GREAT!! and it uses my new favorite bean, the cannellini bean. Like someone else I liked it after it had set a while and I liked it cold a whole lot. we had this as a side to grilled burgers and brats but I think this is going to be a good lunch box salad also.
In a large saucepan combine beans, undrained tomatoes, vinegar, rosemary, and red pepper; heat to boiling.
If desired, sprinkle with black pepper and/or garnish with rosemary.
Serve with a slotted spoon.