This delicious looking recipe, submitted by Kathy Specht of Cambria, CA., took 3rd place in the Aug/Sept 2009 Taste Of Home "5-Ingredient" contest. I'm putting it here for safekeeping to try when I buy a proper tart pan. Cook time includes 30 minutes chill time.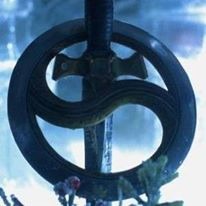 This was really good! I didn't have a tart pan, so just made it in a regular pie plate. I hesitated to post the photo since I basically messed up the tart from beginning to end. First I bought a deep dish crust and should have gotten a regular size one. Then I forgot to add the pecans before I poured the caramel into the crust. So I had to try to pour it back in the pan, add the pecans and then put it back in the crust. Finally I bought the wrong chocolate chips and they really did not want to melt. I had a hard time drizzling the chocolate on the tart. Even though I did make a mess of the recipe, the flavor was wonderful and we all enjoyed it. Made for Under Cover Pies and Tarts.
On a lightly floured surface, unroll pastry. Transfer to an 11-inch fluted tart pan with a removable bottom; trim edges. Line unpricked pastry with a double thickness of heavy-duty foil.
Bake at 450° for 8 minutes. Remove foil; bake 5-7 minutes longer or until lightly golden brown.
In a large saucepan, combine caramels and 1/2 cup cream. Cook & stir over medium-low heat until caramels are melted. Stir in pecans.
Spread filling evenly into crust.
In a small microwave-safe bowl, melt chocolate chips. Drizzle over filling. Cover and refrigerate for 30 minutes or until set.
Whip remaining cream and serve with tart.