Mary K.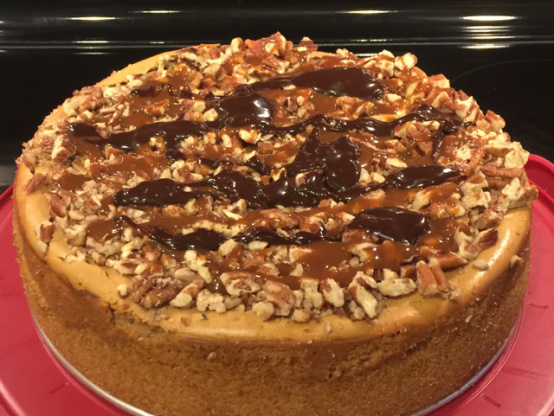 " A finalist in the 2001 Nestle Toll House Share the Very Best recipe contest, this dessert was submitted by Audra Burtch of Chandler, Arizona. This family favorite is a marbled cheesecake topped with a decadent combination of pecans, chocolate morsels and caramel and chocolate syrups. "

I was skeptical about the lime juice but holly molly. The vultures at work circled for no more than 5 minutes and it was gone as if it had never been there, plate licked clean!!!!! Seriously... right in front of us, she picked it up and licked it!!!!
PREHEAT oven to 300 degrees F.
Grease 9-inch springform pan.
COMBINE crumbs and butter in medium bowl.
Press onto bottom and 1 inch up side of prepared pan.
BEAT cream cheese and sweetened condensed milk in large mixer bowl until smooth.
Add sugar, eggs, lime juice and vanilla extract; beat until combined.
Microwave morsels in medium, microwave-safe bowl on HIGH (100%) power for 1 minute; stir.
Morsels may retain some of their shape.
If necessary, microwave at additional 10- to 15-second intervals, stirring just until morsels are melted.
Stir 2 cups of cheesecake batter into melted morsels; mix well.
Alternately spoon batters into crust, beginning and ending with yellow batter.
BAKE for 1 hour 10 to 15 minutes or until edge is set and center moves slightly.
Cool in pan on wire rack for 10 minutes; run knife around edge of cheesecake.
Cool completely.
Drizzle Nesquik™ and caramel syrup over cheesecake.
Sprinkle with pecans and mini morsels.
Refrigerate for several hours or overnight.
Remove side of pan.