Turos Csusza - Dry-Curd Cottage Cheese and Noodles
Kathy228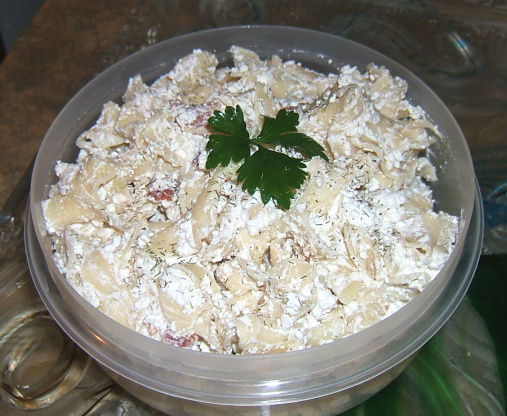 This is a Hungarian recipe that uses DRY cottage cheese. My mother would make this frequently as I grew up. Tastes great when eaten at a-little-warmer than room temperature.
Using a large pan, cook the diced bacon until crisp; remove bacon from pan and keep warm.
On low heat, stir the sour cream into the bacon fat.
To the pan, add the noodles, bacon, dry cottage cheese, salt and pepper. Combine gently.
On low heat, gently fold the contents until heated through. Adjust seasonings.
With lid on pan, let set for half hour before serving. They taste best if not too hot.
Garnish with more sour cream and dill if desired.