Lvs2Cook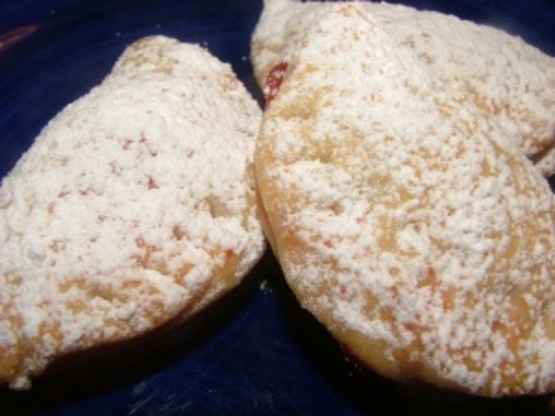 Your favorite jam, jelly or preserves can be used for the filling in these delicious cookies. If you have a favorite icing recipe, they look great with some drizzled over the top.

Top Review by Zaney1
These tasted fabulous!!! I used blueberry cherry jam and it must have been too thin b/c it escaped out of the seams. Yummy! I didn't put any glaze on the top b/c they didn't need it. They were gone before they were cool. Next time I make them, I will double or triple the batch. Word got around the inlaws and they all wanted to try them. Too bad they were all gone! LOL!!
Cream the cream cheese and butter together. Blend in flour and salt.
Roll out on a floured surface and cut out circles with a biscuit or cookie cutter.
Place a dab of preserves or jam in the center of each cookie. Fold over and press edges together with a fork.
Bake on an ungreased cookie sheet at 375º for about 10 to 15 minutes.