Turnips/Rutabaga Simmered in Date Syrup (Maye' Al-Shalgham)
COOKGIRl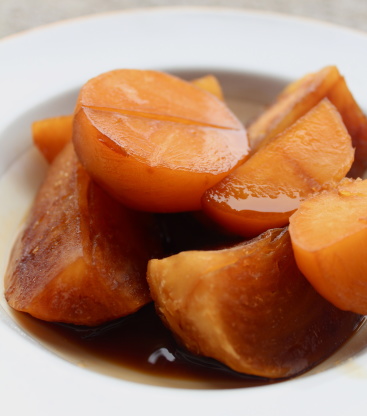 We enjoy this delicious Iraqi recipe. It gives turnips/rutabaga/swedes a delicately sweet taste and a lovely hue. Modified from, Delights from the Garden of Eden by Nawal Nasrallah. NOTE: If using the small real white and purple type of turnip do not leave to soak in the water date syrup mixture after cooking as they may become waterlogged.

I've been checking out Middle Eastern cookbooks at our local library on a regular basis and athe recipe I found in one of the books and was very interested in trying was this. The recipe was prepared using small rutabagas and turnips. They were cut into wedges then the wedges sliced vertically down the center to within an inch of the bottom. I reduced the water/dibs down to a thickish syrupy liquid and to about 1/4 cup being sure *not* to burn. Plated then drizzled the dibs syrup over the veggies. My husband said the taste reminded him faintly of poached pears. No bitter taste and it was a perfect balance of flavors. Don't omit the salt. Thank you, UmmBinat for posting the recipe! Will make again very soon! Reviewed for Veg Tag/March.
1

lb small turnip (by small I mean not the huge rutabagas, they are also called swedes in some European countries)

4

tablespoons date molasses, I like to add more to taste (also called date syrup or dibis tamar in Arabic, found in Middle Eastern stores)
sea salt, to taste
water, to cover
Peel turnips and cut into thick wedges and then slice into each wedge sideways but not all the way through. (I say sideways yet you may not understand what I mean by that but I don't know the word for it!? Not vertical, not horizontal) This will be to let the date syrup soak in better.
Put them all in a medium pot, add date syrup and cover slightly with cold water.
Bring to a boil, lower heat and simmer for about 30-45 minutes depending on turnips age.
Serve warm, sprinkled with a dash of sea salt if wished.
If not eating right away see note in introduction.
Enjoy!