ChefLee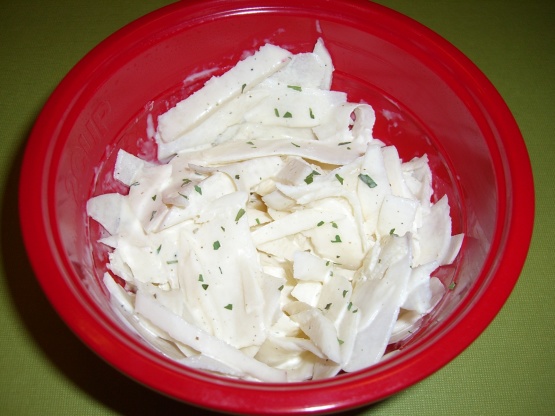 I love turnips, raw, or cooked any way. I just found this recipe last week surfing the internet and immediately made it. I love it, if you like turnips, you will too. I used low fat mayo and sour cream. cook time is chill time.

We got a seed pack of root veggies and the turnips were one of the first that we harvested. We had way more than I knew what to do with. I'm not a huge turnip fan, a little goes a long way in my opinion . This slaw recipe is a great recipe to have on hand and a pretty healthy way to use these little guys up. Thanks for sharing the recipe.
In a large bowl, stir mayo, sour cream, vinegar, mustard, sugar, salt and pepper.
Add turnips and mix well.
Refrigerate 6 hours.