Turnip 'n' Peas 'n' Shrooms
Bergy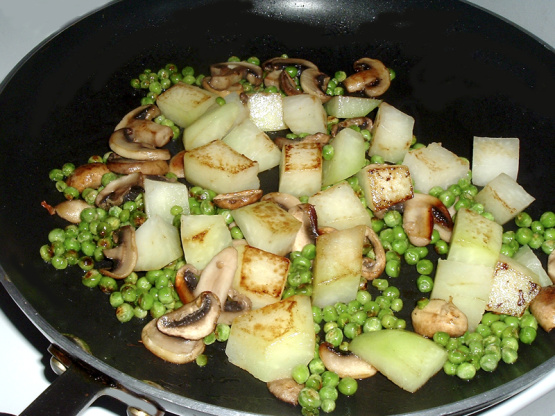 I always served turnip in some form or another -- mashed. While I still love mashed turnip, this is an interesting and different way to serve it. And you get 3 veggies in one dish!

Top Review by Bergy
This recipe does the lowly turnip justice! Great mix of flavors. The buttered mushrooms give just that exrta touch. I used sugar snap peas (fresh) cut diagonally in 3 instead of the frozen peas and cooked them for about 1 minute so they added crunch but were still heated through. Another time I may even try mashing the turnips with the mushrooms & peas stirred through. Excellent recipe Lennie Thanks! — Sep 16, 2002, 3 members found this helpful Additional comments I really enjoy this rcipe - This time I used Kohlrabi (the garden is loaded with them) Cooked for 5 minutes, frozen peas (I did not precook them just added them to the mushrooms) everyone enjoyed their veggies
Peel rutabaga and cut into cubes about 1-inch square; cook in boiling salted water until tender but not mushy.
Add peas and cook for 2 minutes longer; drain well.
Meanwhile, saute mushrooms in butter; season with the thyme and black pepper.
Combine all ingredients in a serving bowl and toss lightly.