Turnip and Onion Hot Dish
Parsley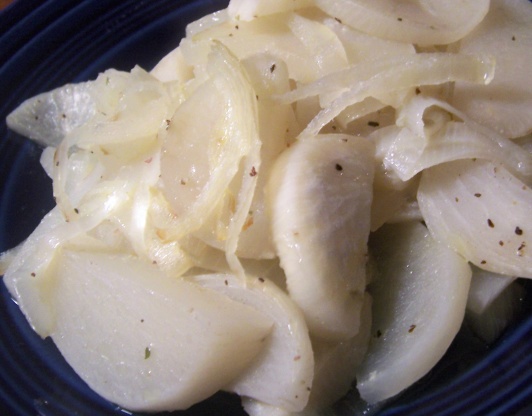 This is a delicious dish that goes well with most winter main dishes. It is very easy to make and is a good alternative to scalloped potatoes.
Great versatile dish. If you slice the turnips and onions if a food processor, it makes up very quickly. I do salt, pepper and light dot with butter each layer. Tw o or three tablespoons of skim milk instead of the broth make it richer, smooth out the turnips. Great place to us e left overs . Last night was asiago cheese, with the leftovers for breakfast. After a party, add deli sliced meats and cheese, into a sort of strata. I love this dish.
Preheat oven to 400 degrees F.
Peel turnips, cut in half lenthwise, then slice each half crosswise into thin slices.
Arrange alternate layers of turnip and onion in a greased 2 1/2-quart casserole dish.
Sprinkle lightly with salt and pepper.
Dissolve bouillon cube in boiling water and pour over vegetables.
Dot with butter or margarine.
Cover casserole with foil or lid and bake 1 hour 15 minutes, or until turnips are tender.