KateL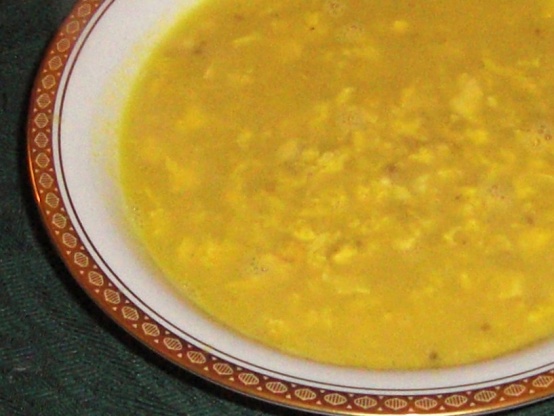 A basic Nepalese soup. Good for treating colds. Recipe from The Spice House. Edited to add: This is meant to be a medicinal soup. You wouldn't serve your family a cup of TheraFlu or Lemsip for dinner would you? ;)

Top Review by KateL
3 Stars, requesting clarification of the heat setting and the length of time for step 1. This tasted very mild to me, as something easy to digest that might reduce inflammation. I would have preferred a very thick chicken stock as a substitute for the water. I wanted more garlic (I usually double garlic), but I haven't decided if I would increase the ginger. Step 3 indicated that the egg should be broken into the pan directly, and sauteed, which then resembled egg drop soup. I needed to add salt to wake up the taste. If DH or develop a cold or the flu, I will be sure to try this. Different things appeal when you are sick. Made for Tempted by Turmeric.
Heat oil, and saute ginger and garlic.
Add turmeric and fry for about one minute.
Break the egg in, and saute until cooked.
Add the water, and heat until it comes to a boil.
Add salt to taste.