Turmeric Orange Ginger Infused Rice
BarbryT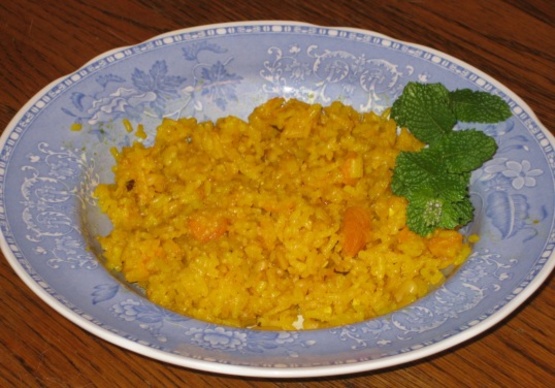 I made up this recipe from the only turmeric rice recipe I found on Zaar. It was made totally on the fly, and turned out delicious. I hope you feel the same. Rather than writing a review on the original recipe I thought it better to post a different one, since I had made several changes, instead of singling them out in my review of the first one. The mint adds just a hint of freshness to the rice, the mango a small sweetness along with the orange water, the toasted pine nuts add great crunch and texture, and the ginger/garlic marry well with all other flavors without being overpowering.

This is delicious! I had it with steamed sole & added a garnish of mint and also added some dried hot red peppers to the recipe for some heat. I am dairy-free, so used extra virgin olive oil in place of the butter! I will definitely be making this dish again. I like Barbry T's idea of dried apricots - will have to try that too!
Take ½ cup diced dried mango in a small cup and add 1 tablespoon thawed frozen orange juice concentrate.
Add enough very warm, but not hot, water to cover. Let sit to plump and infuse mango with orange juice.
Meanwhile, melt butter over low-medium heat in 2 quart saucepan, but do not brown.
Add garlic and ginger to butter and let combine until entire mixture is no longer raw and cooked to infuse the butter. Do not brown.
Drain mango, take juice and pour into measuring cup and add water to equal 1 ¾ cup.
Add liquid to saucepan and bring to a boil. Add rice, salt, cinnamon and pepper and turmeric.
Cover and simmer about 15 minutes til rice is tender and all liquid is absorbed. Remove from heat, covered.
Then add macerated mango, fluffing with a fork. Recover. Before serving, sprinkle with freshly minced mint and pine nuts. Refluff. Taste for seasoning (salt and pepper), and adjust to taste.
Drizzle with Extra Virgin Olive Oil and serve. Enjoy.