Parsley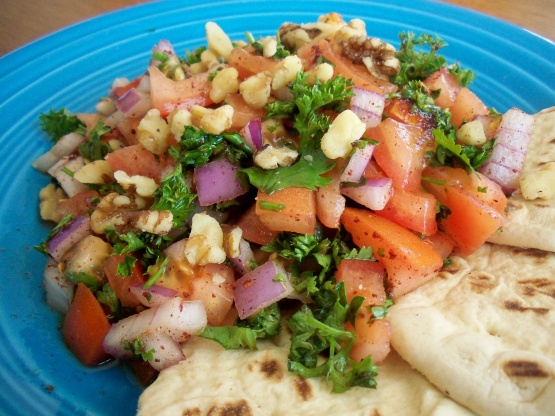 This "bright" and refreshing salad, from turkikshcookbook.com has all my favorite ingredients. We like to use Sesame Pita Crisps to scoop up the salad, although lavosh would work, too! Named after a mountain in southeast Anatolia. Sumac is available in Middle Eastern shops or online. It will make a huge difference if you use the freshest, best tomatoes and freshest parsley you can find.

I could live on stuff like this! I just wish I would have homegrown tomatoes right now. The flavors and colors are outstanding. One tsp of sumac may seem like a lot, but the pomegranate syrup balances it. The toasted (I very lightly toasted mine) walnuts for garnish were a great touch. In the end I actually mixed them right into the salad. I made this in the morning to have later for lunch. I used mini flatbreads to scoop up this yummy mixture. Next time I must remember to double this! Thank you, cg!
Crush the onion with the salt and sumac.
Toss all the ingredients in a medium sized mixing bowl.
Arrange on a festive salad platter and garnish with the walnuts.
Gavurdagi salad's flavor is enhanced if you put it aside for a few hours before you serve it.