Turkish Red Pepper Spread
COOKGIRl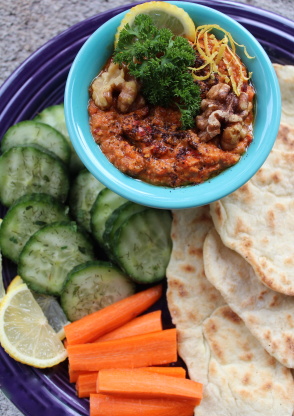 I found this several years ago on a cooking site.

Delicious muhammara! I love it! I subbed a freshly roasted bell pepper for jarred however. Served on a platter with Recipe #17977, cucumbers slices with dill and carrot slices. The top of the spread was garnished with fresh parsley, walnuts, lemon zest and a light sprinkle of sumac. Reviewed for Best of 2011.
Toast walnuts in a small dry skillet over medium heat, stirring, until fragrant, 2 to 3 minutes. Transfer to a small bowl and let cool.
Combine all ingredients in a food processor and process until smooth.
Adjust seasoning with more lemon juice and salt, if desired.