Turkish Poached Eggs With Yogurt and Spicy Sage Butter
gailanng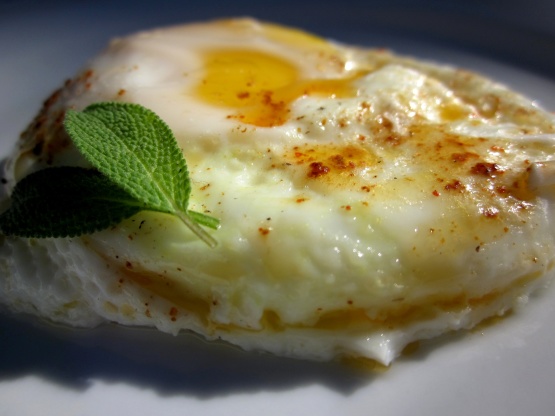 A delightful breakfast/brunch recipe from Bon Appetit, May 1995

WOW!! I save the word 'wow' for extra special recipes! This was extraordinary. I came across this same recipe online last week and was happy to see it posted on the food.com site. Followed the recipe as written except I did cut the sage into ribbons (tri-color sage from our herb garden). Be sure the yogurt is drained well for best presentation. My husband declared this recipe: "Phenomenal". I declare it a rare jewel. Presented on a platter with watercress border. Must be served with bread to soak up that sage-y yumminess. Meal accompanied by simple saffron rice pilaf and a tossed salad with seasonal ingredients. Out of this world good! thank you!
Stir yogurt and garlic in small bowl to blend and then season to taste with salt.
Divide the mixture equally among 4 plates, spreading to coat the the center of each plate.
Melt butter in a heavy saucepan over medium heat, then add the sage, paprika and red pepper and stir just until the butter sizzles; remove from heat and season with salt.
Add the vinegar to large skillet of simmering water and return the mixture to a simmer.
Crack the eggs into the simmering water and simmer until the eggs are softly cooked, about 3 minutes.
Using a slotted spoon or pasta server/fork, remove the eggs from the water, drain briefly and place 2 eggs atop the yogurt on each plate.
Rewarm the butter mixture, if necessary, and spoon over the eggs.
Serve immediately with pita bread.