Turkish Lentil Salad (Adas Salatasi)
Annacia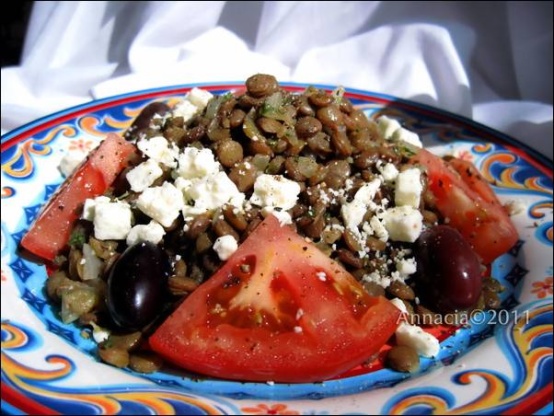 You can garnish as you desire with chopped tomatoes, olives, cucumbers or feta cheese. If your lemons are large, one will do.

This made a grand summer lunch. I cooked the lentils in the morning and than finished it up later. The flavors are marvelous while a little goes a long way in the tummy you just don't want to stop, I'm not sure if thats a good or bad thing LOL. Also it makes a lot, I made a single serving and there is half of it left to chill until tomorrow.
Cook lentils over medium heat simmer covered 20-30 minute Do not overcook, drain and rinse with cold water.
Heat olive oil in a saute pan over medium heat, add onion and cook until translucent, add garlic & cumin, cook another minute.
Place lentils in a large bowl, add onions, cumin & stir in lemon juice, parsley, salt and pepper.
Set aside for at least 30 minutes.
Garnish with tomatoes, olives, cheese or cucumbers.