Turkish Lamb and Quince Stew (Avya Yahnisi)
JustJanS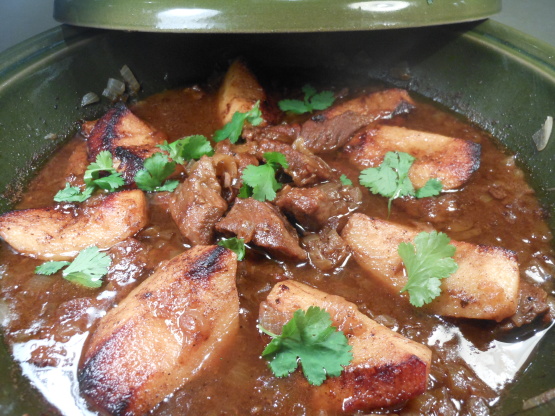 Lamb, quince and spices melts they flavor perfectly in this autumn dish. If you don't know quince in meat dishes, this recipe is a way to be introduced in them. Recently I tried this with chicken (skin remouvedI) and it was delicious as well!

Ten stars, this is sooo good! I was lucky to find some left over quinces at the Oriental grocery at this time of the year, and I sure wish I wouldn't have to wait until fall to make this again :) DH and I are extremely fond of pomegranate molasses dishes, so this will be made often. Thanks for sharing!
Heat 2 tablespoon oil over high heat in a deep frying pan or stew pot. Add lamb and brown it in several portions removing it to a plate when browned.
Heat the other 2 tablespoon oil over high heat and add the onion and cook gently for about 5 minutes, until translucent and light golden.
Add the pomegranate molasses and the water. Stir well, to mix in the browned juices.
Return lamb to the pan and add 1/2 teaspoon cinnamon, allspice, salt, and pepper.
Cover and simmer for one hour. Adjust salt if necessary and check liquid form time to time.
Melt the butter in a frying pan. Add the quinces and cook over high heat for several minutes until caramelized.Turn the pieces from time to time.
Add sugar, cloves, and 1/2 tablespoon cinnamon, stir once, and place on top of the lamb in the pan.
Cover, and simmer gently for about 30 minutes, until the lamb is tender, shaking the pan occasionally. Don't stir, this would damage the quinces!
Serve hot with fresh bread, bulgur, rice or what you like!
Note: I prepare at least the double amount of quince increasing spices and sugar. We all love quince very much!