rpgaymer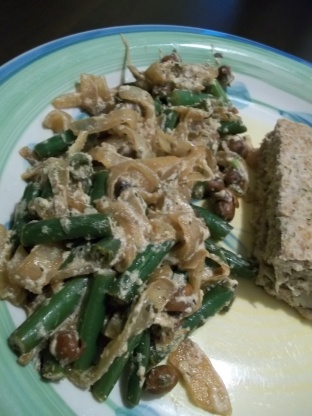 The Zaar World Tour has me searching high and low for new recipes from all corners of the globe. This is an untried recipe by the simplicity and unusual inclusion of yogurt as a sauce for the beans appeals to me.
These green beans were surprisingly good. As I was cooking the dish, I was apprehensive about it as the flavors weren't working for me. Luckily, it tasted great at the end, although my yogurt did curdle a bit. I also served this with your turkey kibbeh, and the two dishes really went well together.
Clean and trim green beans to 1 to 1 1/2 inch pieces.
Heat the oil and butter in a pan, add the onions and cook until lightly browned. Add the parsley, marjoram and broad beans. Sprinkle with salt and cook gently for 5 minutes, turning frequently.
Add water and green beans, reduce the heat and cook uncovered for 20 minutes.
In a small bowl, stir the crushed garlic into the yogurt.
When the beans are cooked, stir in the yoghurt and cook for a minute.
Serve immediately.