wizkid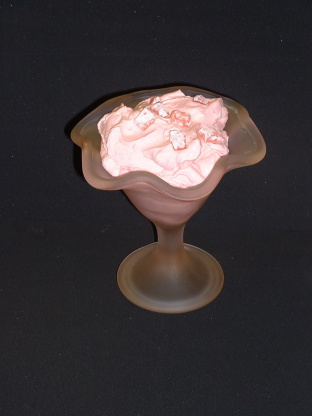 This is a recipie from YOU magazine of the newspaper the 'Mail on Sunday'. It is very simple to make and is very rich.
2

ounces caster sugar

6

tablespoons sweet white wine
1⁄2 pint double cream

1

tablespoon rose water

2 -3

drops of pink food coloring

2

ounces of pink Turkish Delight, chopped up into little 1/8 inch cubes for decoration
icing sugar, for dusting
Place the orange juice and sugar in a bowl and leave for 2 hours.
Stir to dissolve the sugar- there will probably still be a small amount left on the bottom, but don't worry about this.
Add a little of the wine to the cream in a bowl and whip until it just starts to form a trail.
Gradually whisk in the remaining wine.
Then whisk in the orange juice whisking well with each addition until the mixture thickens (If the wine and orange juice are added too quickly, the mixture will curdle).
Finally whisk in the rosewater and a couple of drops of food colouring.
Toss the mini turkish delight cubes in a little icing sugar, so that they will not stick together.
Serve in individual bowls, sprinking the mini turkish delight cubes on top to decorate.