Turkish Braised Lamb (Tas Kebap)
IngridH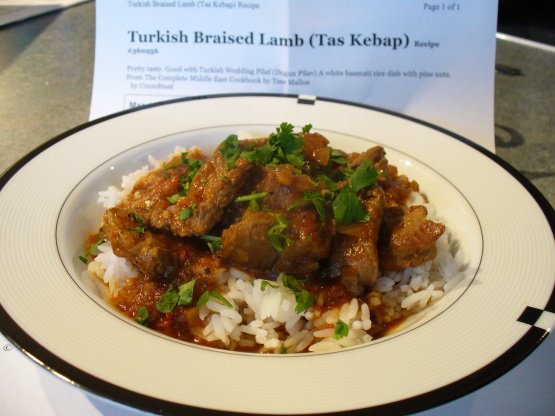 This was a really good stew! I used lamb shoulder chops, which I took off the bone and cut into small pieces. I used allspice in place of the bahrat, although I think I may try the spice mix next time. Based on the link posted for the spice mix, I added a bit of paprika and cayenne. I only needed to cook for an hour and 10 minutes, my lamb was perfectly tender and the sauce had thickened a bit by that time. It could have reduced a little more, but the flavors were calling my name at that point, so I served it as it was. I served this over long grain white rice, although I also considered mashed potatoes or egg noodles. I also served the sauce to a non-lamb eater over his pork chop, and he enjoyed the flavors as well. I'm looking forward to enjoying the leftovers for lunch tomorrow. Thanks for posting a great recipe!
Trim and cut meat into 2 cm (3/4 inch) cubes.
Heat 1/2 the olive oil in a heavy pan and brown meat quickly on each side.
Transfer to a plate.
Add remaining olive oil, onion, garlic and sweet pepper.
Fry gently until onion is transparent.
Add tomato and water.
Stir well, and add bahrat or allspice, salt and pepper to taste and most of the parsley.
Return lamb to pan, cover and simmer gently for 1 1/2 hours or until lamb is tender and sauce is thickened.
Very good on a bed of Turkish Wedding Pilaf (Dugun Pilav).
Sprinkle hot meat with reserved chopped parsly before serving.