Juenessa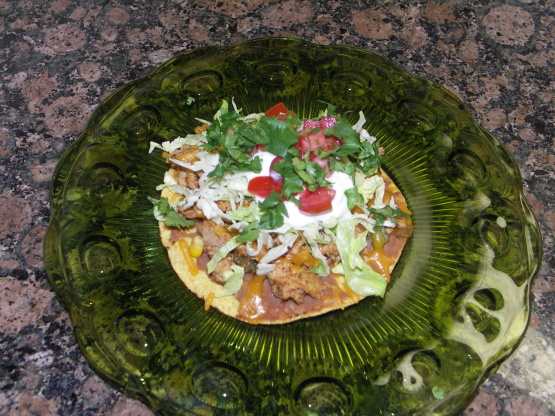 These tostadas are a great alternative to ground beef tacos. They have a delicious Tex-Mex flavor and are nutritious. I prefer to leave out the mushrooms. Hope you enjoy them!

We loved these following Juenessa's great suggestions! Omitted mushrooms, used refried beans instead of kidney, assembled the tostadas and added the cheese to the top and melted in the oven, then added the toppings. The turkey mixture is delicious, I added a little fresh lime juice to the mix. A+ dinner, everyone ate till they were stuffed. A casual, fun meal!
Cook turkey over medium heat in a large nonstick skillet until no longer pink; drain.
Add onion, green pepper, and garlic; cook and stir for about 3 minutes or until onion is slightly tender.
Add mushrooms and cook 1 minute longer.
Stir in salsa, beans, chilies, chili powder, cumin, salt and hot sauce and cook for about 5 minutes.
Stir in cheese and corn and cook until heated through.
Assemble tostadas by spreading about 1/3 cup filling over shells. Top with whatever toppings you like.