Turkey Tonnato (Turkey With Tuna Sauce)
MsPia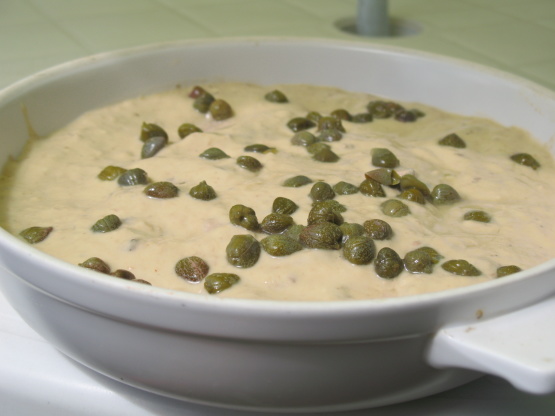 Rather than traditional veal (vitello tonnato), this recipe makes good use of leftover thinly sliced turkey breast. The sauce, given great body and piquancy with the addition of capers and chopped anchovy fillets, is enormously simple to make with a food processor or blender. It is visually impressive, with garnishes such as thinly sliced lemon wedges, imported Mediterranean-style black olives and tourches of finely chopped parsley, was created by Craig Claiborne and Pierre Franey of The New York Times. Serve with tomato slices or a mixed green sald on the side.

Top Review by MsPia
Excellent! I didn't blend in all the capers because I love the crunchy saltiness of them, so I added some on top. Also when I finished making the sauce I thought it needed more tuna but I actually eat it the next day and the flavours had blended to perfection.
Cut the turkey breast across the grain into thin slices, about 1/8-inch thick.
Put the drained tuna and capers into the container of a food processor or blender and blend.
Add the mayonnaise, lemon juice, anchovies and broth. Blend thoroughly.
Spoon about a 1/4 cup of the sauce into a serving dish and smooth it over.
Arrange a 1/4 of the turkey slices, slightly overlapping, over the sauce.
Spoon another layer of sauce on top.
Add another layer of turkey slices and more sauce.
Continue making layers until all the turkey slices are used.
Finish with a layer of sauce.
Garnish the top symmetrically with lemon slices, black olives, and parsley.
Serve any additional sauce on the side.