Turkey Tenderloin With Cranberry Shallot Sauce
jenne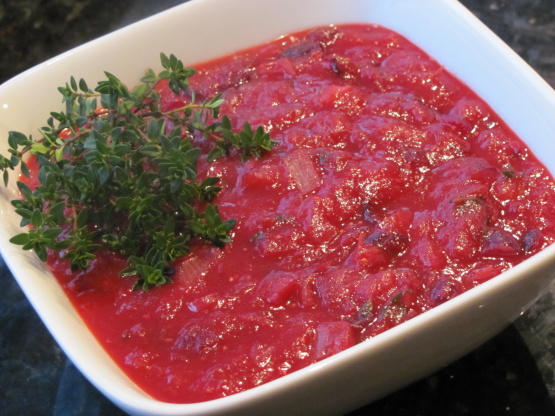 Recipe from Eating Well's November/December 2009 magazine; it is low carb and low calorie but packed full of flavor. This would be a great dish to serve on Thanksgiving or Christmas- you'd still have turkey, but it would be cooked in a flash! They recommend serving it with a side of mashed sweet potatoes, brussels sprouts and a glass of Reisling. UPDATE: I just made the cranberry shallot sauce. . .I used 2 large shallots instead of 4 (which was more than enough), added an additional 2T of brown sugar and about 1/4 cup of orange juice to thin it out. Good stuff! Garnished it with fresh thyme.
Preheat the oven to 450 degrees F.
Sprinkle turkey tenderloins with 1/4 teaspoon salt and pepper. Heat 2 teaspoons oil in a large skillet over medium heat. Add the turkey and cook, turning to brown all sides, about 5 minutes total. Transfer to a baking sheet. Roast until an instant-read thermometer registers 165°, 15 to 25 minutes (depending on the sizes).
Meanwhile, add the remaining 2 teaspoons oil to the pan. Add shallots and cook, stirring occasionally, until browned, 3 minutes. Add thyme and cook until fragrant, about 10 seconds. Add broth and cook, scraping up any browned bits, for 1 minute. Stir in fresh and dried cranberries and cook until most of the fresh cranberries have broken down, 6 to 7 minutes. Stir brown sugar, vinegar and the remaining 1/2 teaspoon salt into the sauce; cook for 1 minute. Cover and remove from the heat.
Let the turkey rest on a clean cutting board for 5 minutes. Thinly slice; serve with the sauce.