teresas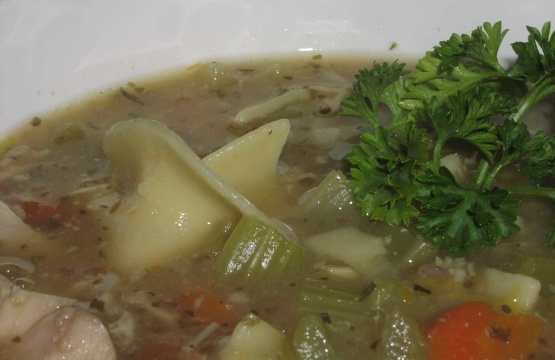 Excellent use of leftover Thanksgiving turkey meat. Like many people, I have spent countless hours searching for unique and appealing ways to serve left-over turkey for the several days that followed our huge Thanskgiving feast. After trying several different soups and stews, my husband and I combined all the things we liked best about our favorite recipes and came up with this wonderful turkey stew recipe. It's our favorite, and the only turkey stew that we even eat anymore.

For a cold blustery day this was the perfect meal to make. I have it simmering stovetop right now and cannot wait for dinner. Used leftover turkey from Superbowl Sunday to make this stewe. It is below 0 with the windchill factor. I used to noodles as oppesed to the rice (DH not a fan). I did make my noodles seperate so I can add it in just before dinner to warm through. I used a combination of acini de pepe and ditalini noodles. Ialso used homemade broth left over from the turkey cooking to reduce as much salt as possible and added in an extra clove of garlic and NO salt seasoning. This is a keeper. Made for Soup-Fest 2011
Dissolve the bouillon in the hot water to make a broth; set aside.
Place the turkey meat, turkey bone, all the vegetables, flour, both rices, spices and chicken broth in a large kettle or Dutch oven
Add as much of the 4 cups water as you prefer for desired consistency. Season with salt and pepper.
Simmer over low heat for 30 to 45 minutes, or until the carrots and celery are tender and the turkey meat is heated through.
Remove the turkey bone before serving stew.
NOTE - you can easily use pasta in place of the rice. Just omit both the white and wild rices, and add about 1 cup uncooked egg noodles (or other pasta).
TIP - I like to use a combination of white and dark meat when making this turkey stew, as I think it produces a much tastier stew. But you could easily use only white or only dark meat, to suit your taste buds.
TIP - if you're watching your sodium intake, you can easily omit the chicken buillon cube in hot water and replace it with 1 cup of low-sodium canned chicken broth. For our health, we should consider this option but we are die-hard fans of this recipe and haven't been able to bring ourselves to do that -- at least not yet!