2 Reviews
Fantastic spinach soup!! Had to use frozen spinach but that was okay, didn't affect the taste I suppose. I can assure you it tastes fantastic on a hot summer day, too :) Thanks for posting this yummy recipe!
Made for 1-2-3 summer hits.

Delicious and easy - what more can you ask for? I made this exactly as posted, except I used baby spinach. This was very flavorful and hearty. I did add a little parmesan cheese when serving. I will be making this again!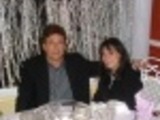 Turkey Spinach Soup