Turkey Soup With Egg Noodles and Vegetables
mikey ev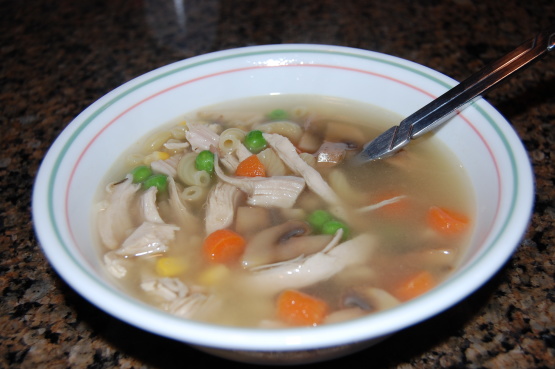 I was looking for a way to use up some leftover turkey - Lo and Behold I came up with this wonderful soup from the Food Network on Quick Fix Meals with Robin Miller. Seeing as the holidays are right around the corner and there will be plenty of leftover turkey in our kitchens, I thought I would share my new found treasure with you ;) This recipe is super easy and tastes great! Your family will never know they are eating leftovers. I hope you enjoy this recipe as much as I did.

I didn't have leeks on hand, so I substituted onions. It was a hit and a great use of our leftover turkey.
Heat oil in a large stock pot or Dutch oven over medium heat.
Add leeks, carrots, garlic, and celery; saute 4 minutes, or until soft.
Add turkey, bay leaves, thyme, salt and black pepper; stir to mix well.
Add chicken broth and bring mixture to a boil.
Reduce heat to medium-low, partially cover and simmer 10 minutes.
Return mixture to a boil and add egg noodles.
Cook 10 minutes, until egg noodles are just tender.
Stir in peas and cook until peas are just heated through, about 1 minute.
Remove from heat, discard bay leaves and stir in parsley.
Serves 4-6.