Turkey Soup for the Slow Cooker
WiGal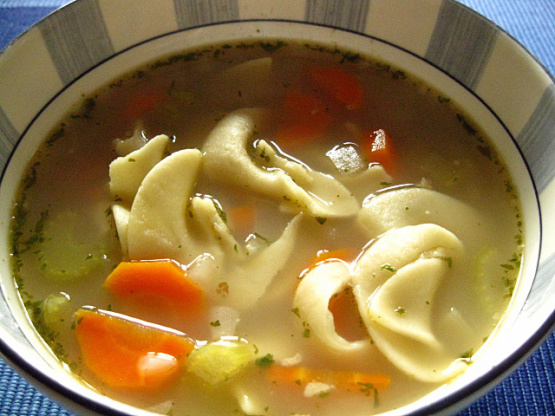 This is how I take care of the turkey carcass. But you can make this soup by following the directions and using 12 cups of chicken broth with 1/2 teaspoon of poulty seasoning. You can freeze the carcass and make the broth when convenient for you.
Turkey Broth:.
Put the turkey carcass in your slow cooker on Low with an onion, celery stalk,a carrot, salt and pepper,bay leaf, 1/2 poultry seasoning, 2 teaspoons chicken powder and water. Cook on Low overnight.
Next morning, strain the both and pour it back in the slow cooker.
Remove turkey meat from bones, set meat aside.
Soup:.
In the slow cooker with the broth, add onions, garlic, carrots, celery, thyme, salt and pepper.
Cook at High for 4 hours; add turkey, noodles, and parsley.
Cook another 1/2 hour.
Enjoy!
NOTE: Cooking time doesn't include the overnight that your broth is cooking.