Turkey Sausage With Polenta Pucks
Linky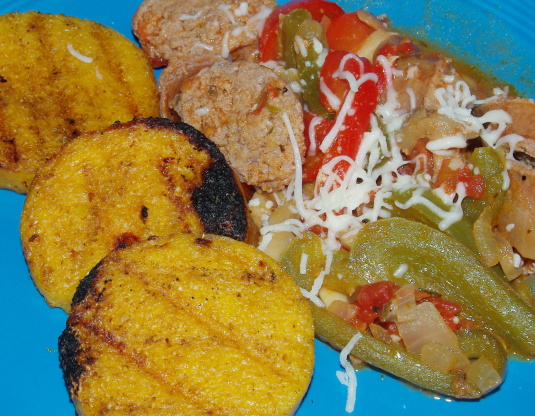 Adapted from A man, A can and a Grill. A savory combination of Italian flavors over crisp polenta slices.

Yum! This was real comfort food. I had to make the polenta myself because I've never seen ready made polenta in the grocery here, but that was just fine. Also the sausages I used maybe weren't exactly what the recipe called for, but they were Italian and tasted excellent :) Thanks for sharing this yummy recipe!
Made for PAC Fall 2012
Fire up grill.
Saute chopped peppers, onion and garlic in olive oil until soft. Add tomatoes, mushrooms, oregano and basil. Cover. Simmer for 20 minutes.
Meanwhile, slice polenta into 1/2 inch thick pucks, spray with cooking spray.
Grill sausages and polenta, turning several times.
Remove sausages from grill, slice the long way, add to tomato mixture.
Put several slices of polenta on each plate, spoon sauce over, sprinkle with grated cheese.