lazyme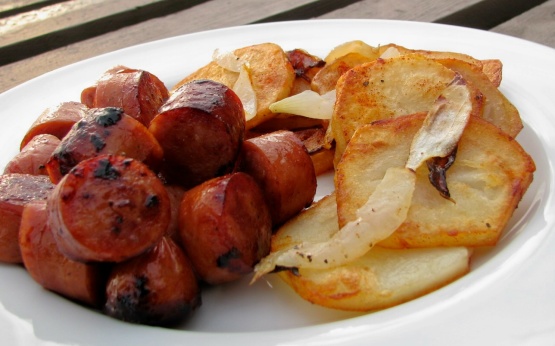 A tasty, low-fat meal that can be quickly made. I am including the "basic" recipe; sometimes I add chopped peppers or sliced tart apple. (My mother would have called this Bratkartoffel mit Wurst)

Top Review by lazyme
What a great dinner. This was easy to make and very tasty. I used German sausage and had a spicy mustard and horseradish on the side to dip the sausage into. We'll have this again soon. Thanks for sharing this nice keeper. Congrats on another win in the football pool!
In a non-stick pan, saute sliced sausage for a minute.
Add potatoes and onions.
Stir until potatoes start brown and onions become translucent.
Keep stirring until potatoes are done.
Sprinkle with seasoned salt and pepper. Add other seasonings, if desired.
(If using cast iron pan, add a little olive oil at the beginning!).