Turkey Sausage and Kraut Skillet
Simple, quick and healthy--Oktoberfest in a skillet!
Directions
Slice the turkey kielbasa into bite sized pieces (can be partially frozen) and set aside.
heat large skillet on medium heat. Add the kraut, brown sugar, mustard, and apples. Place the kielbasa on top. Poor the beer over.
Put a lid on the skillet and cook until heated and the apples are tender. Approximately 10 minutes.
I like to serve this with roasted red potatoes.
Most Helpful
This dish is a WINNER! It's July and I've fixed this meal twice in one week! Can't get enough and it's VERY healthy. Thanks so much for the recipe. I'm back in late August with an update; This is great for weight loss. I've had this now 8 time and it's easy on the waistline! I keep adding the stickers of the apples (from the store) onto my recipe printout it looks really funny, but that's how I keep track.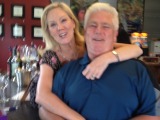 This is so delicious! I made it with some warm German potato salad on a cold rainy night, and the hubby & I can't wait for more tomorrow. Thank you for sharing such a wonderful dish. I did not change a thing. It's perfect just the way the recipe is written. Extremely easy to make.