Turkey Pot Pie With Stuffing Crust (Using Leftovers)
Dine Dish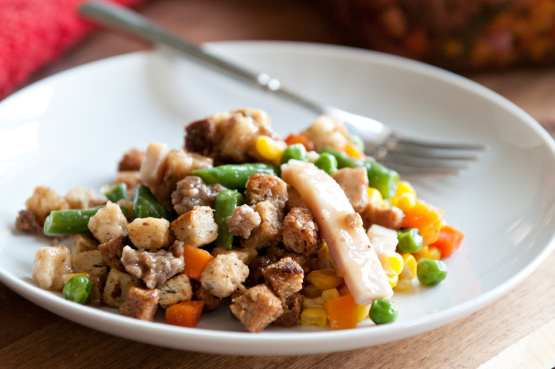 This is my favorite pot pie to use up those holiday leftovers. I tend to make more stuffing and gravy then I need for the meal so that I can use up the leftover turkey in this way. I love the crispy stuffing crust on the top. The gravy keeps the potpie from being dry.

This was really well liked. I was asked to make it again, but didn't have enough gravy for a second one. I did omit the sage and garlic powder since the stuffing was already well seasoned. The turkey was very moist and overall everything had a very good flavor.
2

cups diced leftover cooked turkey

2

cups leftover turkey gravy

2

(16 ounce) bags frozen mixed vegetables (canned or already cooked works well too)

2

cups leftover prepared stuffing (more if desired)

1

tablespoon garlic powder

1

teaspoon ground sage

1

teaspoon pepper

1

teaspoon salt
pie crust (optional)
Preheat oven to 350 degrees (176 celsius).
Cook vegetable mix according to package instructions; drain well.
Mix together turkey, vegetables, garlic powder, sage, salt and pepper in a large bowl.
If using a bottom pie crust, line a 9 x 13 rectangular cake pan with crust; prick all over and pre-bake until light brown.
Spoon vegetable and turkey mixture into the 9 x 13 rectangular cake pan.
Pour gravy over the vegetable/turkey mixture.
Top with stuffing, spreading evenly over all.
Bake for 30 minutes or until hot and the stuffing crust is brown and crispy.