Wendelina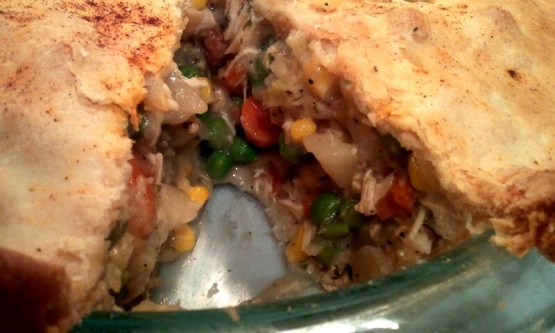 This was a recipe I was a little nervous trying as I am not a pie maker...What a pleasant surprise- it turned out delicious and was a good stick to your ribs meal on a cool fall day. Update- I tried it this year with the new Pillsbury refrigerated pie crusts, it turned out wonderful, see the photo I took!

I have to agree, this was delicious. I say "have to" because normally turkey is not our thing but I now find myself making a turkey breast just to have leftovers for this pot pie. Like others, I have made some very small changes: I use 1/2 olive oil and 1/2 butter to saute the vegetables, I use 2% milk instead of whole milk and I add a 1/2 a small bag of frozen peas and 1/2 a small bag of frozen lima beans to the mix when the potatoes are just about done cooking. I think you could use pretty much any herbs and any vegetable you have and it'd be great. Poultry seasoning works well, of course, as does something like Mural of Flavor from Penzey's. Also, I make more than the recipe calls for and instead of making it into a pie, I toss the filling into a big rectangular Pyrex pan (it's completely filled) and then cut the crusts (I use the store-bought ones) to cover the top and bake. It's delicious, easy to do and makes lots of leftovers (which of course just get better and better).
Preheat oven to 425°F (220°C).
Melt 2 tablespoons butter in a large skillet over medium heat; add the onion, celery, carrots, parsley, oregano, and salt and pepper.
Cook and stir until the vegetables are soft.
Stir in the broth.
Bring mixture to a boil.
Stir in the potatoes, and cook until tender but still firm.
In a medium saucepan, melt the remaining 2 tablespoons butter.
Stir in the turkey and flour.
Add the milk, and heat through.
Stir the turkey mixture into the vegetable mixture, and cook until thickened.
Cool slightly, then pour mixture into 1 unbaked pie shell.
Cover with remaining crust.
Flute edges, and make 4 slits in the top crust to let out steam.
Place on a cookie sheet.
Bake in the preheated oven for 15 minutes.
Reduce oven temperature to 350°F (175°C), and continue baking for 20 minutes, or until crust is golden brown. Note- Cooling the filling before putting in pie shell is EXTREMELY important, if it is too hot it will make the crust mushy.