Turkey Pineapple Spinach Meatloaf
Rita1652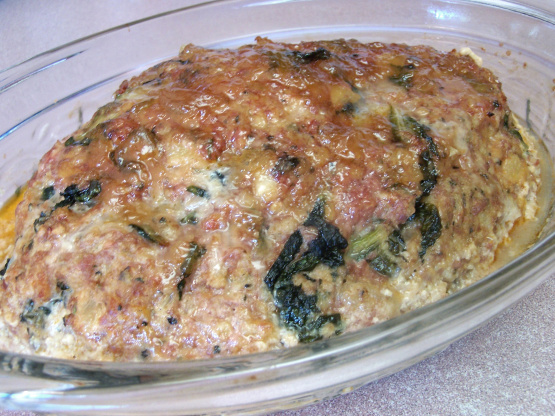 This is very moist and highly seasoned from the spices and herbs you add and those in the breadcrumbs & sausage! You can make a small meatball and fry it to taste test for additional seasoning. This is the point where you can tell if you need to add salt as well as spice! But I doubt it! As for the parmesan, bread crumbs and sausage is salty.

This was excellent. I increased the pineapple to 1/2 cup, and cut the onion and spinach in half. The pineapple flavor was still very subtle. Strongest flavor in this dish was the italian sausage, but it wasn't too strong. Hubby said it didn't taste like turkey at all. Normally, he'd go back for seconds, but this was very filling. He was full from the first slice. Thanks for the great recipe Rita!
Preheat oven to 350 degrees.
Heat olive oil in large skillet and cook onions and garlic until tender. Remove to large bowl.
Add pinapples, spinach (squeezed dry), bread crumbs, cheese, eggs, basil, sage and pepper. Mix well.
Add turkey and turkey sausage and mix gently.
Form into round loaf and place in 2 quart casserole dish.
Bake for 40 minutes, top with pineapple rings or mix the preserves and brown sugar spread on loaf, bake 15 more minutes or until internal temperature registers 160 degrees.
Let stand, covered, for 15 minutes before slicing.