scancan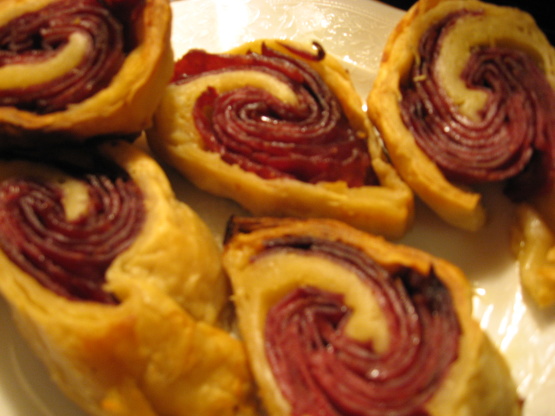 This can be made using the cold cuts of your choice.

My family loves this recipe especially my kids and even my guests kids. This is a definate winner in our house. I have made it several times with whatever coldcuts I have on hand or a mixture and it is great everytime. I usually use Dijon mustard with honey and it takes great and it is so easy.
1⁄2 lb sliced turkey breast
1⁄2 lb sliced pastrami

6

ounces Dijonnaise mustard
Defrost puff pastry until semi-frozen.
Unfold& roll out until slightly thinner.
Spread half of the dijonnaise over pastry sheet.
Layer turkey& pastrami, then spread the remainder of dijonnaise.
Roll up the pastry sheet jellyroll fashion.
Place on aluminum foil sprayed with Pam.
Bake, uncovered for 40 minutes at 350 degrees.
slice on the diagonal.