Prep 10 mins
Cook 40 mins

Adapted from 1996 "Good & Easy" cookbook with my own special twists. Almost healthy, and sure to pick you up at the end of the day.
Directions
Heat oven to 359 degrees. (Just checking here, you did see that -- right? It's 350 degrees. however, I think if you can get 359 that would be fine too).
In a non-stick skillet, place ground turkey and onion and cook for 8-9 minutes until no longer pink. Breaking up meat, and stirring.
Drain if necessary.
Using a 2 quart casserole dish, add turkey, onion, and rest of ingredients, (except Parmesan Cheese) right into the casserole. Fold in these ingredients until combined. Check for taste.
Cover with foil or lid of casserole and bake for approximately 30 minutes.
When serving sprinkle Parmesan cheese over top.
Most Helpful
We really enjoyed this easy-to-put-together and healthy recipe. The only change I made was to add more pasta ( I love my carbs - but at least I used whole wheat pasta!). The sauce/meat mixture was still enough. This also tasted great the next day for leftovers at lunchtime. Yum! ~Made for The Top Favorites of 2009 Cookbooks Tag Game~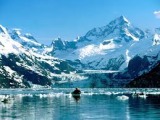 Comfort food indeed! DH said on our way back to the kitchen, 'I really liked that one, I hope your gonna give it 5 stars' - since I completely agree with him, I did! :) I reduced the meat to 1/2 pound and upped the peas just a smidge - also added some red pepper flakes for a little bit of heat. I included the capers and fresh tomato too. Next time, I'll serve with a nice crusty loaf of bread. Will be making again!

What an easy all-in-one meal. We had this for dinner one evening, after quite a cold and windy day. We really enjoyed it, and I really liked the fact that it was so easy to prepare. I spent so little time in the kitchen, yet we had a complete meal after only 30 minutes in the oven. I made it exactly as written, though I have to admit that I used both garlic powder AND minced garlic (3 minced cloves) to suit our taste preferences. And the ground turkey was such a nice change of pace (from the usual ground beef). We really enjoyed this. Made for All New Zaar Cookbooks tag game. Thanks for posting another winner, Andi!