Turkey or Lean Beef Meat Sauce (Optional Crock Pot)
Rita1652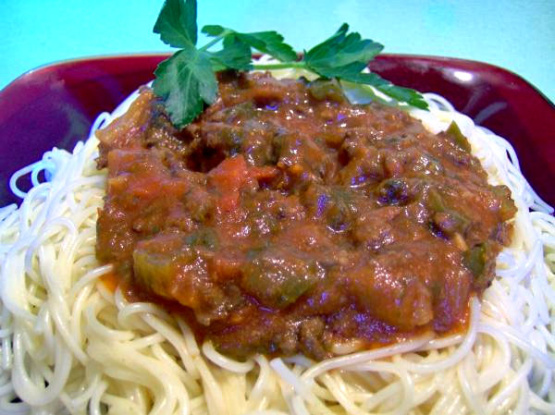 No added fat just lots of flavor in this chunky meat sauce. Not just chunky from the meat but from the diced vegies which adds flavor and keeps the fat down without adding to much meat! You can sweeten the sauce if the tomatoes are not sweet enough but wait till it simmers for 1/2 an hour then taste and season as you like. The carrot has a way of taking any tang from the sauce and the onions sweeten it. This make alot so you can have some for dinner and freeze some for the future.

I found this low calorie, low fat sauce and just had to make it. I actually doubled it because I knew it would be wonderful. I followed the recipe exactly as you wrote it out and my family loved it! Thank you for the recipe!
In a large heavy hot pot over medium high heat brown meat. Add onions, garlic, pepper, carrot, and celery and cook till meat is lightly browned being sure to stir often.
Add rest of ingredients and bring to a boil then simmer over very low heat for an hour or two. Can be placed in a crock pot and cooked on low for 6-8 hours.
Stirring to prevent the sauce from burning.
Serve over your favorite pasta topping with cheese, or use for baked ziti, lasagna or use to top a pizza.