Turkey (or Chicken) Taco Bake
Prep 20 mins
Cook 20 mins

I found this in a TOH magazine and tried it out because I could clean out my fridge of a bunch of odds and ends. It ended up being a hit with my family so I'm posting it. I changed a few things from the original as I made with what I had on hand. This is easy, quick, cheap and, best of all, delicious!
2 cups coarsely crushed corn chips
1 (16 ounce) can refried beans
2 cups shredded cheese, divided (your choice, I used a 4-cheese Mexican blend)
1 cup salsa (your choice, to suit your family's taste)
2 cups shredded or chopped cooked turkey or 2 cups cooked chicken
1 teaspoon Mexican seasoning or 1 teaspoon taco seasoning
2 green onions, sliced
1 medium tomatoes, chopped
Directions
Place corn chips in a greased shallow 2 1/2 quart baking dish; place the refried beans in a medium saucepan; cook and stir over medium heat until heated through; remove from the heat; stir in 1 cup of the cheese and the salsa; spread mixture over the chips.
Toss the turkey or chicken with the Mexican (or taco) seasoning; sprinkle over the beans mixture; top with remaining 1 cup of cheese; sprinkle with green onion.
Bake, uncovered, at 375°, for 20-25 minutes, or until cheese is melted.
Sprinkle with chopped tomato.
Most Helpful
You and I obviously have the same magazine subscription!! My family absolutely loves this too -- easy, tasty, and a great way to use up lots of leftovers!!!!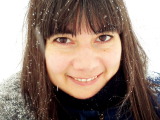 This was reletively simple to make and it tasted great. We omitted the tomatos on top and accidently used an entire packet of taco seasoning on the shredded chicken, but we really enjoyed it and will definately make it again!