Turkey or Chicken Cordon Blue--Weight Watchers
teresas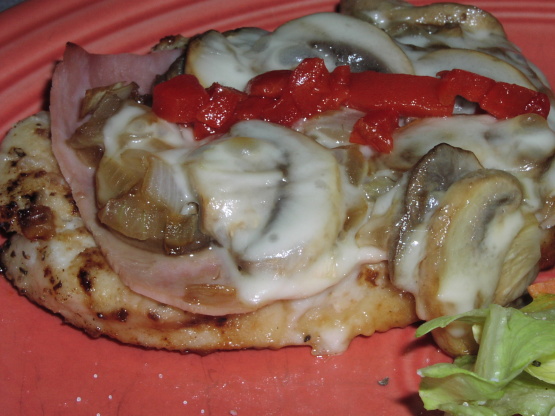 This is one that my daughter makes that is delicious. It came from an older Weight Watchers Cookbook. It has only 4 points per serving. Even you non-WW friends will like it. You may use chicken breasts that you pound out into a cutlet. I prefer the chicken to the turkey.

Although both DH and I liked this we were not in love with it. Maybe because of the Turkey. Another reviewer loved it but had made it with chicken. I think that would be my choice of poultry if I was to prepare this again. We did love the mushrooms/onion mixture. I only had sliced ham so that is what I used. I laid the ham on top before adding the mushroom/onion mixture and finally topped it with the cheese. Thanks for posting. :)
Preheat oven to 350 degrees; spray an 8" square baking dish with nonstick cooking spray.
In a gallon-size sealable plastic bag, combine the flour, pepper, and poultry seasoning; add turkey and shake to coat.
In a large nonstick skillet, heat the oil; add the turkey and cook till lightly browned, about 2 minutes on each side.
Transfer to the baking dish.
In the same skillet, combine mushrooms, onion, and ham; cook stirring constantly, till osftened, about 5 minutes.
Spoon evenly over turkey; top each cutlet with a slice of cheese.
Bake till turkey is cooked through, about 15 minutes.
Serve garnished with pimiento strips.
186 calories, 6 g fat, 1 g fiber.