Turkey, Mushroom and Chickpea Sauce (Crock-Pot)
Annacia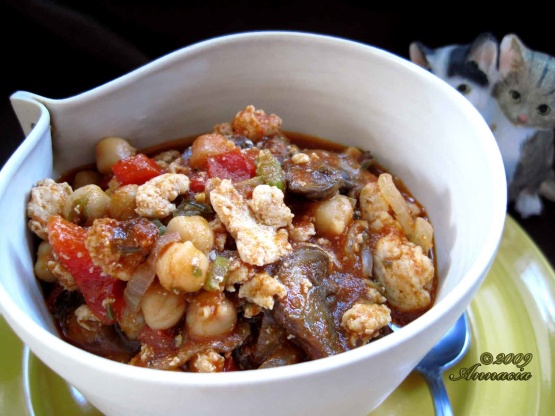 This was great over brown rice -- but I think it would also be wonderful plain or over whole wheat pasta. Recipe source: The Healthy Slow Cooker

WOW, this is delicious. I had in a bowl all alone and it didn't need any backup from pasta, rice or potatoes. It has the chickpeas in it and that was plenty for me.I used chicken breast for the turkey (I whizzed it in the food processor) and anise seed in place of fennel. These flavors come together and make magic. So glad I tagged this :D.
In a large skillet over medium heat toast the fennel seeds for 3 minutes or so.Transfer them to a mortar and pestle and grind. Set aside.
In the same skillet, over medium heat, heat the oil and then add turkey, onions and celery and cook stirring for 5-10 minutes or until turkey is no longer pink.
Stir in next 4 ingredients (garlic - pepper), cook stirring for another minute.
Stir in mushrooms.
Pour mixture into crockpot.
Stir in tomatoes, broth and chickpeas.
Cover and cook on low for 6 hours (high for 3 hours).
Mix paprika and lemon juice in a cup and add to crockpot along with the bell pepper. Cover and cook on high for 20 minutes.