Turkey Meatloaf With Spinach and Bacon

Oh My Gosh! This is one of the best turkey meat loaf I have ever had! My son Nick LOVE"S this meatloaf. Remember, "Don't let your Meat Loaf"
Directions
Preheat oven to 350.
Squeeze out excess water out of spinach.
Use a large egg.
Mince Garlic.
In a large bowl, combine all ingredients except bacon. Shape into a loaf and place in a shallow baking dish.
Arrange bacon across top.
Bake 1 1/4 hours or until a meat thermometer registers 160.
Most Helpful
Wow this was great! I'll admit, I was skeptical. The flavor was excellent. Be sure to really squeeze the spinach dry, so it isn't to watery in the meatloaf. I used 2 egg whites and turkey bacon. I also added some chili sauce to the top, but won't next time, as it was much to sweet and overpowering. The meatloaf is much better alone.

This was very good we enjoyed it very much. Thanks Kasia!!! BTW - You ROCK!!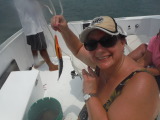 I deleted the bacon and added