Ashley Cuoco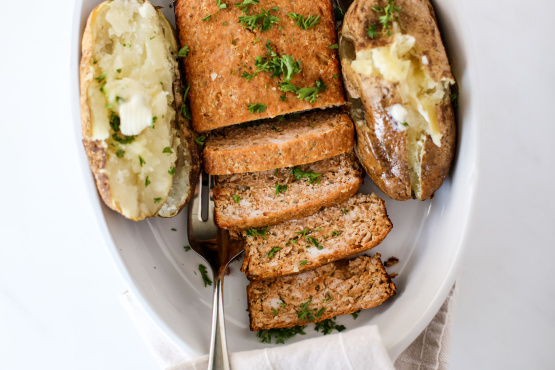 This recipe came from a package of ground turkey. It is by far the best turkey meatloaf I have ever tasted.
My search for the perfect turkey meatloaf recipe is over (I have seriously tried more than 15 recipes). We loved this. Really Moist, actually bordering on TOO moist. My minor changes due to necessity: 1- used a mixture of white and red onion, because I was using up leftover raw onions from 2 other recipes. 2- used 85% lean turkey since I already had it, but would probably use the leaner variety the next time because this recipe was almost TOO moist. 3- used only 1 pound of turkey instead of 1.25 because that is how it is sold in our store. 4- used Panko breadcrumbs since they were ready and available. 5- I also found my meatloaf needed about 10 more minutes of cooking time to reach desired temperature.
Melt butter in a skillet.
Cook onion and garlic in melted butter for 5 minutes, stirring occasionally.
Place mixture in a large bowl to cool for 5 minutes.
Combine turkey, bread crumbs, egg, 1/4 cup of the catsup, Worcestershire sauce, salt, and pepper with onion mixture.
Press meatloaf into an 8x4-inch loaf pan.
Spread remaining catsup on top.
Bake in a 350 degree oven for 50-55 minutes.
(Internal temperature should reach 165 degrees.) Remove from oven and let stand 5 minutes before serving.