Derf2440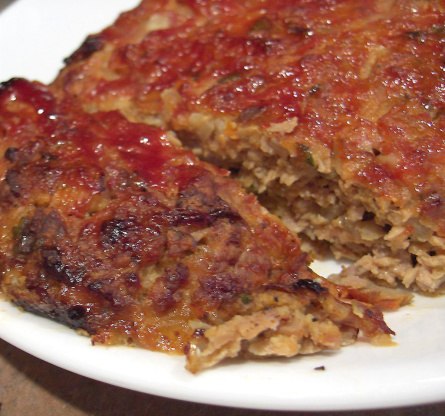 A very tasty low fat meatloaf. The recipe come from Gourmet January 2003.

Fantastic! Uncle H who is a huge fan of beef couldn't tell it was turkey at all, and Aunt M said she daydreamed all day at work thinking of eating the leftovers. I added some fresh thyme in mine and served it with a homemade sauce since I ran out of ketchup. I used 1 c. tomato sauce, 1/4 c. mustard, 1/4 c. sugar, a bit of honey and a splash of vinegar for a sweet & sour kick. Drooling again just thinking about it! Next version I think I'll add some green bell pepper & rosemary too!
Preheat oven to 400 degree.
Cook onion and garlic in oil in a 12-inch nonstick skillet over moderate heat until onion is softened - about 2 minutes.
Add carrot and cook, stirring, until softened, about 3 minutes.
Add mushrooms, 1/2 teaspoon salt and 1/4 teaspoon pepper.
Cook stirring occasionally, until liquid, mushrooms gives off is evaporated and they are tender, 10 to 15 minutes.
Stir in Worcestershire sauce, parsley and 3 tablespoons Ketchup.
Transfer Vegetables to a large bowl and cool.
Stir together bread crumbs and milk in a large bowl.
Let stand 5 minutes.
Stir in egg and egg white.
Add to vegetables.
Add TURKEY and remaining 1/2 teaspoon salt and 1/4 teaspoon pepper to the Vegetable mixture.
Mix well with hands (mixture will be very moist).
Form into a 9-by 5-inch oval loaf.
Put into lightly oiled 13 x 9 x 2 inch metal baking pan.
Brush meatloaf lightly with remaining 2 tablespoons ketchup.
Bake in the middle of oven 50 to 55 minutes--until meat thermometer reads 170 degrees.
Let meatloaf stand 5 minutes before serving.