JustJanS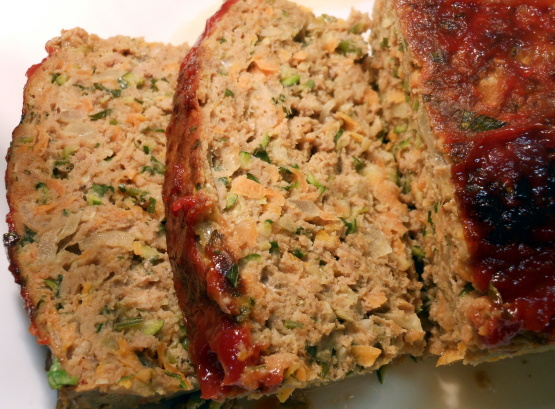 Based on the filling of a sausage roll recipe that we enjoyed. I found that the zucchini released a lot of liquid. I drained it off a few times during cooking, so it didn't get too soggy. If you like gravy with your meatloaf, I would save that liquid to make it with. You could also try adding more bread crumbs or cereal to soak up the juices.

Very good meatloaf thanks Gingernut. I grated my zucc, then salted it lightly and sat it aside for about half an hour. I squeezed as much moisture as I could out of it before going on with the recipe and found I had no excess liquid problem as the meatloaf cooked. I felt the mixture was a little under-seasoned so added a teaspoon of Italian herbs and half a teaspoon of fennel seeds to it.
Preheat oven to 180.
Mix all ingredients except ketchup in a bowl.
Spray the inside of a loaf pan with non-stick spray.
Put mixture firmly in loaf pan and brush with ketchup.
Bake for 45 minutes.