Derf2440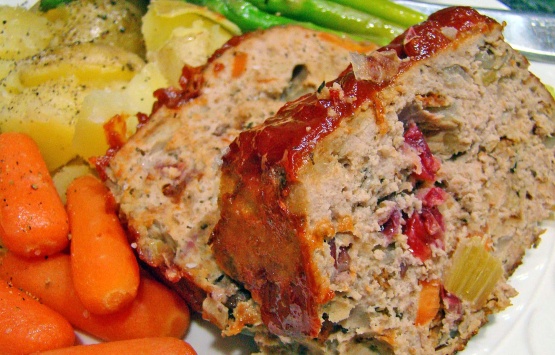 a healthier alternative to regular meatloaf but no cutting corners on good taste.

this turkey meatloaf was very good and I will make again for sure but it was very spicy. I feel there may have been a typo on the black pepper measurement. I think 1/2 teaspoon of pepper would be better than 1 and 1/2 teaspoons, unless you like really spicy meatloaf.
Preheat oven to 375F; grease 9x5x3-inch glass loaf pan.
Heat oil in medium skillet over medium heat; add onion and carrot; saute 5 minutes; add celery; saute until vegetables are very tender, about 15 minutes longer; transfer to large bowl.
Add all remaining ingredients except ketchup to vegetables in bowl; mix thoroughly; transfer to prepared pan.
Bake 1 hour; brush with ketchup and bake about 15-20 minutes longer; cool 7-10 minutes; slice and serve.