Nif_H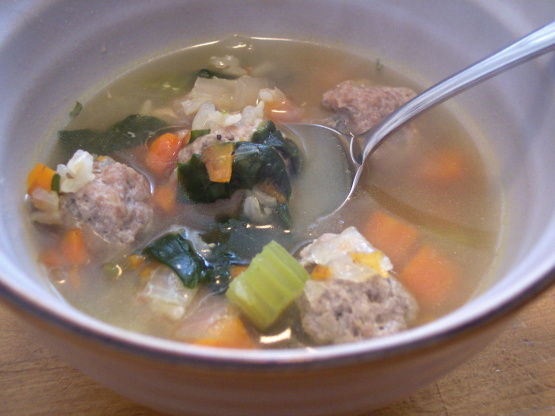 Really easy to make and tastes great, if you are on a budget this is for you.

Top Review by Nif_H
I like the use of the veggies and I was surprisingly impressed with the microwaved meatballs! There was no mention of when to add the rice, so I did it about halfway though the second step because it takes so long to cook. The problem I had with this soup was the broth. It really doesn't have much flavour and I had to keep adding water because it was boiling away. I would use broth and not cook the veggies for so long if I were to make it again. I gave this 4 stars however because I like the flavour of the meatballs and the concept is very good. Made for My 3 Chefs game. Thanks Terry! :)
Broth.
Boil water, 1 onion, celery, carrots, garlic clove, 1 teaspoon sea salt, and 1/2 teaspoon pepper in large pan for 1 hour.
Meatballs.
In a bowl, mix egg, parmesan cheese, remaining onion, 1 teaspoon sea salt, 1/2 teaspoon pepper, 1 teaspoon garlic powder, and ground turkey.
make into 1 inch balls.
Cook in microwave until fully cooked, about 5-8 minutes.
Soup.
Add chopped spinach, onion powder, chopped parsley, sea salt, pepper, garlic powder, and meatballs.
Bring to a boil.
Simmer uncovered for 10-15 minutes.
Serve.
Enjoy.