Turkey Meatball and Escarole Soup
awalde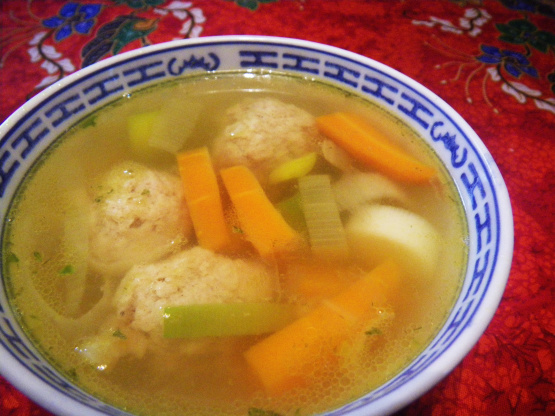 From The Italian Slow Cooker, by Michele Scicolone. I have not made this yet, but it seems like a natural. Because the meatballs are added halfway through, it's not a recipe for those who need to be away all day. However, I think I would freeze the meatballs, and add them at the beginning. Escarole is a wonderful leafy vegetable, not well known in the US. Spinach or Swiss chard are suitable substitutes. The original recipe did not specify, but spinach should really be added only towards the end of the entire cooking period.

Top Review by ellie_
Very easy and good dish which we enjoyed but I thought the broth needed something to kick it up a notch -- maybe basil/oregano/garlic. The meatballs are very good and this is a great low cal/low fat meal. I used the spinach option, adding it at the 4 hour mark (with the meatballs) and I think it would be better to add it at the very end.
In a 3 quart or larger slow cooker, combine the carrots, broth and escarole. Cover and cook on LOW for 4 hours.
In a medium bowl, combine the turkey, onion, eggs, bread crumbs, grated Parmesan, salt and pepper. Mix well and make 1 inch meatballs and carefully add to the slow cooker at the 4 hour mark.
Cover and cook 4 hours longer, or until the meat and veggies are cooked through. Serve sprinkled with the additional cheese.
Note: Swiss chard or spinach would be good subs for the escarole. I would separate the leaves from the stems of the Swiss chard and add them first. The leaves of the chard and spinach should be added right at the end - you can raise to high for the last few minutes.