Turkey Marsala- Using Leftovers
Dawnab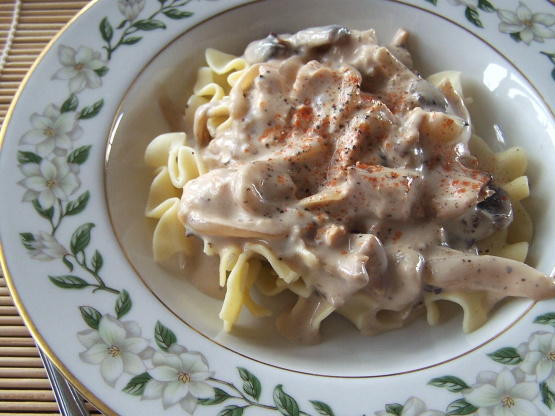 This dish is a way to use leftover turkey but still get that deep flavor that comes from using fresh poultry. Easy, ecconomical and a great was to kick up holiday leftovers, my family begs for it! This is a "not so traditional" made up recipe.

Top Review by J. Ko
I was wondering what to do with the last of my left-over Thanksgiving turkey and found this recipe suggested in a thread in the Community Cafe. I have never tried any kind of Marsala recipe in the past, so I have nothing to compare this to. I have to admit that I absolutely love your "non-traditional, made-up recipe"! I could not follow the recipe exactly because bacon fat is not something I keep on hand. I substituted olive oil, in keeping with the Italian roots of this recipe. I also added a couple cloves of garlic along with the onion and mushrooms. It was taking too long for the sauce to thicken, so I hurried it along with 1 1/2 Tbsp cornstarch dissolved in an equal amount of Marsala. I adjusted the seasoning at the end with a 1/2 tsp sea salt and freshly ground black pepper, then garnished with freshly grated parmesan and parsley. Delish! This will definitely be made again and again! Thank you Dawnab!
2

cups cooked turkey, cubed

1

tablespoon cooked turkey, very finely chopped

1

tablespoon turkey skin, very finely chopped

2

tablespoons bacon fat

1

cup onion, coarsely chopped

1

cup mushroom, sliced
1⁄2 cup marsala wine

2

cups cream

14

ounces chicken broth (one can)
Preheat a skillet over med-high heat, add bacon fat, when melted add turkey bits and skin.
When browned, add mushrooms and onions and saute till lightly browned (keep and eye on it here).
Add marsala and scrape up the "brown bits" as its reducing. Cook about 2 minutes.
Add cream and broth, continue to simmer until thickened, add turkey and heat through.
Serve over noodles or rice or even leftover mashed potatoes, garnish with nutmeg or parsley as desire.